Current Exhibition: October 2019
Deena Jacobs, .Never.Again.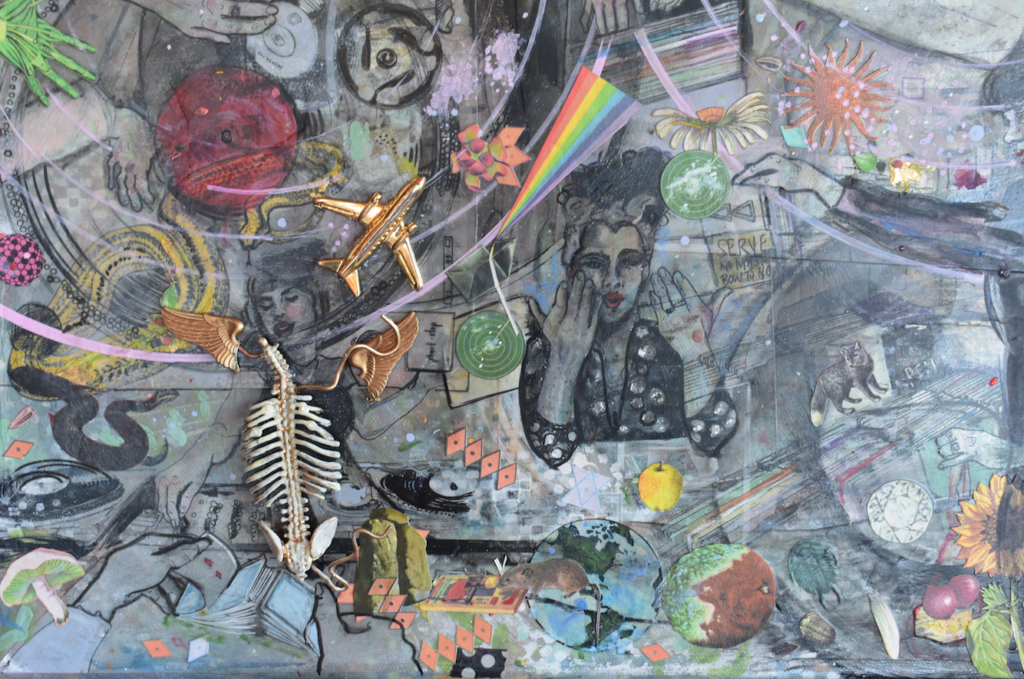 '.Never.Again.' is comprised of mixed media works; painting, illustrations, found objects and preserved paper goods. the complexity of identity and resistance through existence. works spend months and sometimes years in metamorphosis. this series pushes to reveal details otherwise buried or lost. a style that is detailed and congested, layered like life and ourselves, with a flow and freedom present in the precision. a comfortable chaos. so much is put onto us in this world.
About the artist:
Life experiences and mobility have influenced a dedicated art practice, moving away from sculptural work; drawing, collage, and painting are now integrated into detailed mixed media pieces. The work is defined by layers and illustrations, techniques used in the crafting of intimate and narrative worlds. A Canadian, having lived and worked in Thornhill, Toronto, Niihama (Japan), Glasgow (Scotland), and Barcelona (Spain), before moving to Kingston, Ontario in 2016.
Graduating from York University in 2007 with a BFA, Deena Jacobs continues to challenge and expand her practice through movements and integrating new skills.
---
Upcoming Exhibition: November 2019
Floriana Ehninger-Cuervo, I'm fine, thanks
---
About UNIT 115
UNIT 115 is a free, inclusive and flexible exhibition space in the Kingston Arts Council office. As an alternative exhibition venue in Kingston, UNIT 115 is intended to showcase and celebrate local artists and encourage connection between artists and the local community. Applications for this space are open to artists (professional, emerging, student, etc.), arts and culture organizations, and community organizations working in different sectors. UNIT 115 has approximately 25 ft. of wall space, including a four-pane window, and 124 ft. of floor space.
Eligibility: Applicants must have a Kingston, Ontario address. Single, group and collective applications will be accepted; umbrella organizations (incorporated or not) are encouraged to submit. The KAC reserves the right to select or refuse any submitted artwork.
Deadline: 1 February 2019
Selection Process: The selection committee will comprise of Kingston Arts Council staff who will determine the exhibition schedule. Please note that the gallery will be booked approximately 6-9 months in advance. Therefore artists must be available to exhibit anytime during the 6-month period. Any proposals received after the submission date will be held until the following submission deadline.
Click here to read the guidelines.
Click here to download the 2019 application form.