24sep8:00 pm11:00 pmErika Lamon Album Release Party with Michael C. DuguayCome party at BLUMartini to celebrate the album release of Kingston's very own folk-rock songstress, Erika Lamon!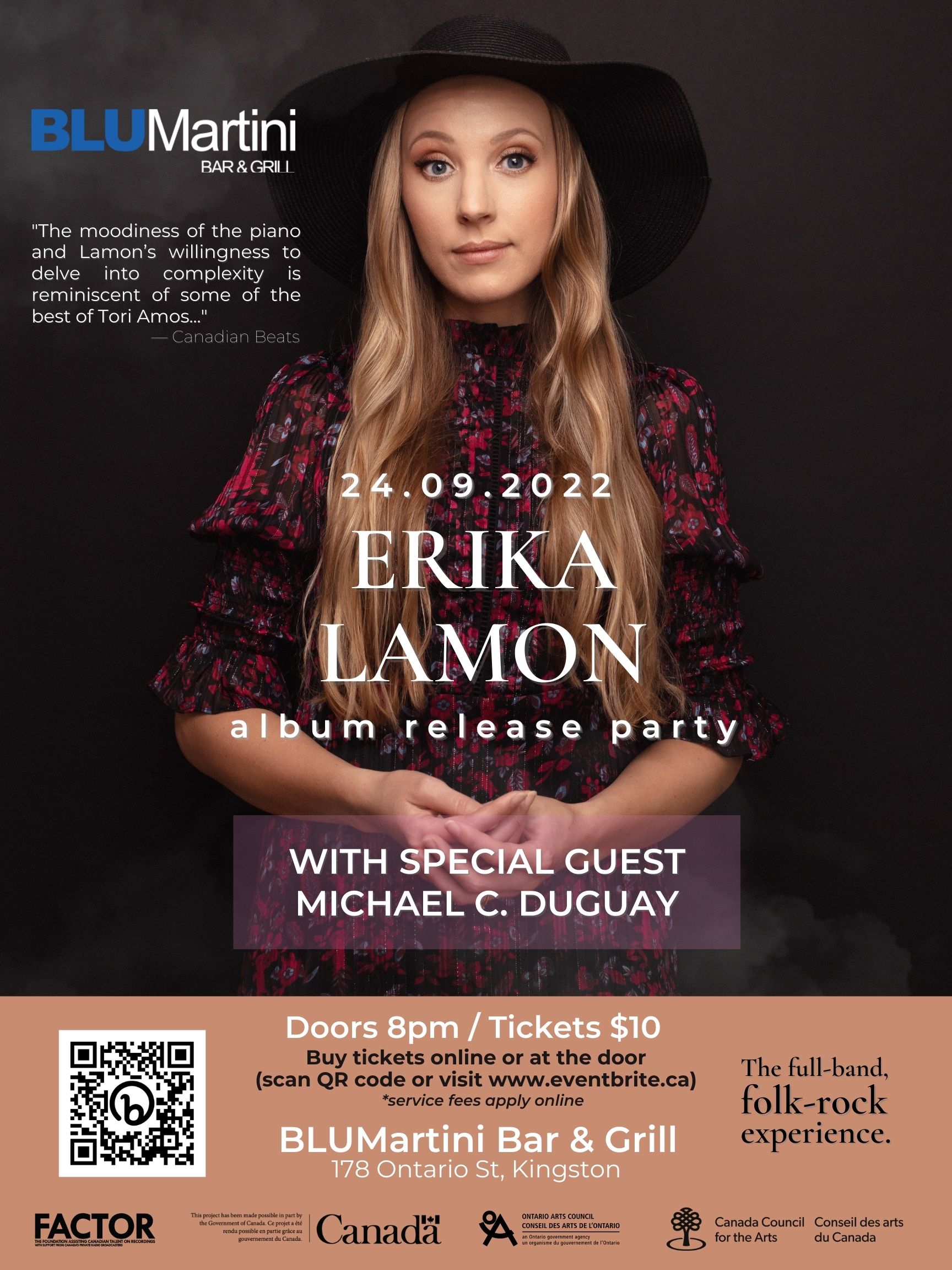 Event Details

Come party at BLUMartini to celebrate the album release of Kingston's very own folk-rock songstress, Erika Lamon!
About this event
Come party at BLUMartini to celebrate the release of Erika Lamon's first album, Hues! Joined on-stage by Max Nolet (guitar, keys), Alexander Tikhnenko (bass), and Justin André (drums), Erika is pleased to present her new folk-rock ethos alongside old favourite tunes. Songsmith Michael C. Duguay will be kicking off the evening, joined onstage by his friend and collaborator Jason Mercer on upright bass and banjo. This is a show you won't want to miss!
Saturday, September 24th at the BLUMartini (Kingston, ON).

TICKETS: 

Tickets are $10 and can be purchased in advance on Eventbrite or at the door the day of. Link to tickets.

TIME: 

Doors open at 8pm, show starts at 8:30pm. Both seated and standing options will be available.
_____________________________________________________________
About Erika Lamon
"The moodiness of the piano and Lamon's willingness to delve into complexity is reminiscent of some of the best of Tori Amos…." – Canadian Beats
Folk-rock songstress Erika Lamon has been charming crowds with a sound steeped in reverie ever since her music scene debut in 2013. In 2017, she released her self-titled debut EP to a packed house in her hometown of Kingston, ON and would spend the next two years performing and touring from Toronto to Charlottetown. In 2020, Erika released her much-anticipated single, Omen, which received CBC radio airplay and was a semi-finalist in the international Unsigned Only Music Competition. Hues is her first full-length record, set for release on September 9th 2022 with support from the Kingston Arts Council, FACTOR, the Ontario Arts Council and Canada Council for the Arts.
____________________________________________________________
About Michael C. Duguay 
"Every song tells a story, but not every songwriter can tell a story the way Duguay can." -Dominionated
Michael C. Duguay is a writer, musician, producer, and community organizer based out of Kingston/Wolfe Island. First gaining recognition as a versatile and uniquely charismatic multi-instrumental supporting player in the early 2000's, Michael has contributed to dozens of critically acclaimed Canadian indie, folk, and experimental albums. A fervent collaborator and community builder, Michael's genre-fluid and multidisciplinary projects feature a diverse and revolving cast of contributing members from across North America, and he is a regular collaborator of other projects including recent Polaris nominees Joyful Joyful, The Burning Hell, Sing Leaf, Weird Lines, Steven Lambke, David Parker, and award-winning Nova Scotian chamber ensemble New Hermitage. Known for his profound and literary lyrical style, Michael is a pop songsmith at his core, but with projects as far-ranging as traditional folk, avant-garde drone, and electronic music, Michael is as comfortable on bluegrass stages as he is in DIY punk and experimental music spaces. The threads which tie these diverse projects together are a consistently radical conceptual practice, inclusive collaboration, and a fearless emotional honesty.
For this performance, Michael will be joined by his friend and collaborator Jason Mercer (Ron Sexsmith, Ani Difranco, Bourbon Tabernacle Choir) on upright bass and banjo.
Bandcamp: https://michaelcduguay.bandcamp.com
more
Time

(Saturday) 8:00 pm - 11:00 pm